Main content starts here, tab to start navigating
Fast-Casual Salads in Highland, UT
For a comfortable and quick lunch, come to Blue Lemon in Highland, UT. Healthy eating is easier at our gourmet restaurant because of our delicious salad selection that we're sure you'll enjoy with every flavorful bite. Our dining experience is comfortable, and options are affordable without ever sacrificing flavor or quality. We make it convenient to get a quick bite for lunch with your family because we offer various options to suit everyone's preferences. You also don't have to pay a lot to get high-quality food or the dining atmosphere that you'd have at a full-service restaurant. We offer gourmet-style salads mixed with a fast-casual experience that will surely turn you into a regular customer. Come into a location near you and try one of our salads for lunch today!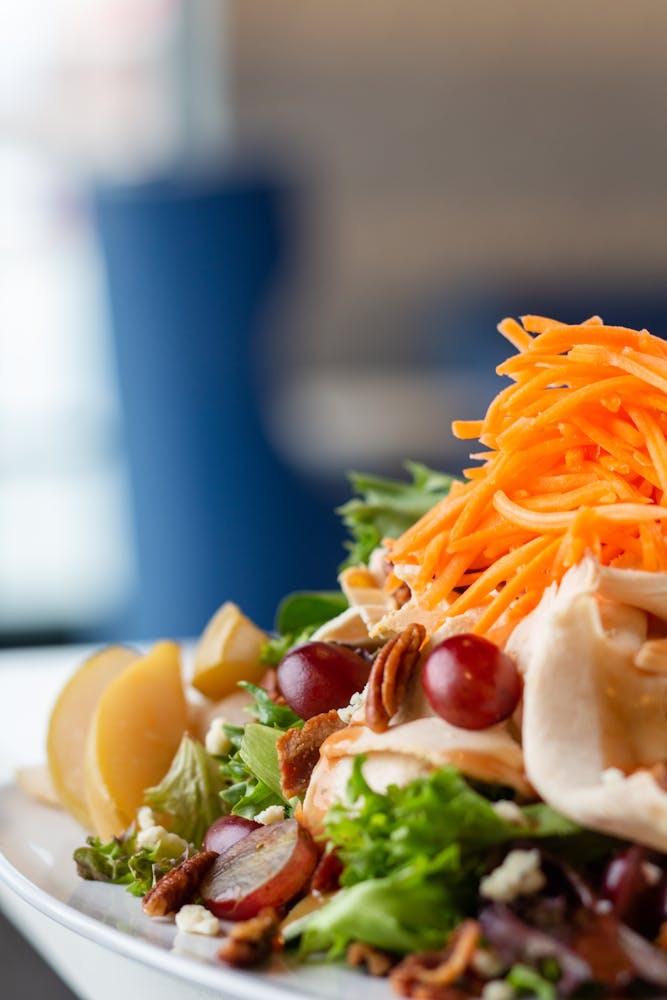 Try Our Delicious Fast-Casual Salads
Make Blue Lemon your go-to lunch place for healthy, well-priced, and tasty food. We have something for everyone, so you should bring your family to try our salads made from locally sourced, fresh ingredients. Our salad selection is varied for bold flavor profiles that'll satisfy your cravings, whether you're looking for something savory, tangy, or slightly sweet. As a fast-casual chain, we make it more convenient for our customers to get a quick bite to eat that's both nutritious and delicious.
Our salad options include the following:
Lemon Chicken Caesar Salad
Asian Sesame Salad
Roasted Utah Beet Salad
Mediterranean
Raspberry Chicken
Pear and Gorgonzola
Any one of our fast-casual salads you choose will be made with fresh veggies, grilled chicken, and balsamic dressings or vinaigrettes. They each come with different toppings to make for a unique flavor combination, which includes ingredients such as feta cheese, pecans, grapes, bacon bits, and more.
What Makes Us the Best Fast-Casual Restaurant?
Our primary goal is to dish out the best salads in Highland, UT, by making sure they're always fresh and taste great, but we do more than that. When you come to Blue Lemon, you can make better dietary choices and feel good knowing we do our part to reduce waste. From our dining room chairs and take-out boxes, to our cups and eating utensils, we're thoughtful about using recycled materials to be as environmentally friendly as we can be. We also boost the local economy and give back to the community by partnering with vendors who provide us with real, organic ingredients that are grown responsibly.
Blue Lemon is the Best Gourmet
There's no place that does gourmet, fast-casual like Blue Lemon. Here, you can get quick, fresh, and delicious salads packed full of nutrients and flavor. Our restaurant blends the quality of a full-service establishment with the efficiency of a more casual food spot. This is why we're a popular choice among locals in the Highland, UT, area who consider themselves salad lovers and health-conscious foodies. Try one of our fast-casual salads that use carefully curated ingredients that are sure to satisfy your taste buds. Next time you go to lunch, stop by a location near you and enjoy the friendly customer service and impressive dining experience you'll receive.
Visit Our Gourmet Restaurant Today
If you're going on a lunch break or meeting up with your family for a meal together, Blue Lemon is an excellent choice because of our varied and healthy menu options. We're sure you'll enjoy your dining experience and we'll soon become your favorite place to get a delicious salad. Not only do we help you and your family make healthier eating choices, but we also do what's best for the environment with responsibly sourced ingredients and recycled materials in our dining ware. Visit our gourmet, fast-casual restaurant in Highland, UT, for your choice of salad full of flavorful, healthy ingredients that will satisfy your hunger.