Main content starts here, tab to start navigating
Gourmet Salads in Salt Lake City, UT
Blue Lemon is known for our fast, casual dining experience that has something for everyone. Our curated and crafted menu, our selection of gourmet salads is sure to please any palate. Our fast-casual cuisine has plenty of choice dining options, served in a comfortable atmosphere at our flagship Salt Lake City location. Whether you're looking for a great lunch option while spending time downtown or want to treat the family to a great evening out, Blue Lemon is where you want to be.
At Blue Lemon, we are proud of our dining experience, which encompasses more than our cuisine. Our menu is the star as it's curated with healthy, seasonal favorites and flavorful ingredients that provide a satisfying and extraordinary dining experience. Top that off with a beautiful location, a relaxing atmosphere, and we know you will want to take time to enjoy your meal.
Blue Lemon of Salt Lake is a fast-casual restaurant, and we make our gourmet salads quickly without sacrificing quality. As a Utah original, we offer options that the whole family will enjoy, making us a local favorite. Our gourmet salads and our other menu items are made with fresh and nutritious ingredients that offer bold and unique flavors.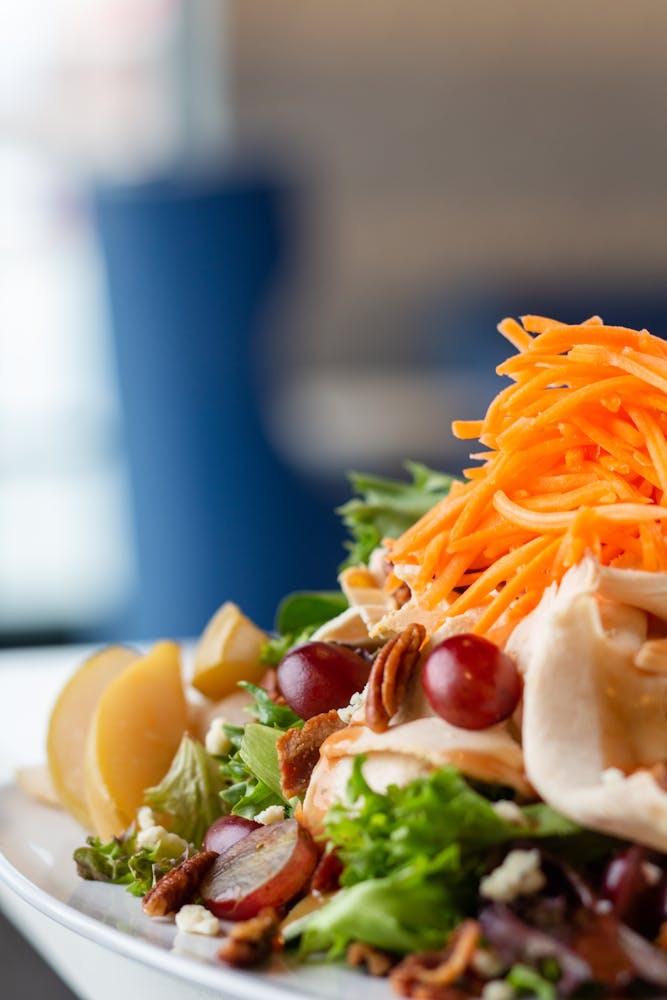 Fresh Salads Made To Order
Whether taking a break from shopping or taking a working lunch, Blue Lemon in Salt Lake City is conveniently located near the Gateway Shopping Center. A gourmet salad from Blue Lemon is an excellent option when you want something delicious, healthy, and made to order. We make each of our menu items from the freshest ingredients, so you can always expect our gourmet salads to taste sensational. We take a unique approach with our cuisine by blending crisp vegetables with well-prepared ingredients, and our salads are never boring. At Blue Lemon, you will look forward to each meal because of the tasty flavors and gourmet ingredients that you'll find in our gourmet salads. Blue Lemon has something for everyone!
Local foodies have quickly made us their go-to choice for healthy, gourmet salads and other delicious options. From gourmet salads to soups and traditional favorites with a twist. Our diverse menu ensures the entire family will be pleased with their selection. Delicious and nutritious offerings are precisely what we serve. Our healthy, fast-casual restaurant is where you can go for balanced meals and gourmet salads with amazingly delicious flavors.
Enjoy A Gourmet Salad From Blue Lemon Today
We do healthy fast-casual better than other restaurants because we make it a point to give back to the community and boost the economy in Salt Lake City. We partner with local vendors to purchase natural, organic, and responsibly sourced ingredients to use in our recipes. We consistently serve our gourmet salads fresh for the best taste. We're proud to bring our unique fast-casual restaurant experience to more customers throughout Sal Lake City, UT, as we continue to grow.
Come in today, order the best gourmet salad in Salt Lake City, and take your time enjoying your meal. Our inviting, family-friendly restaurant aims to make your dining experience the best it can be. Our food, preparation, and service approach make us a local favorite in Salt Lake City, UT. We have mouth-watering salads and other enticing menu items. There's no other place quite like ours that never sacrifices quality yet maintains a menu that is perfect for a budget-conscious family.