Main content starts here, tab to start navigating
Gourmet Sandwiches in Salt Lake City, UT
Our gourmet sandwiches are made with the finest fresh ingredients that are both delicious and nutritious. Blue Lemon near Salt Lake City has a varied menu that ensures there will be something for everyone to enjoy. If you're looking for a convenient, family-friendly place to eat for lunch, you'll find that our restaurant is the perfect choice. We have a comfortable and inviting dining room for you to spend some time with your friends and family for lunch or dinner. Select from our hand-crafted sandwiches, which each offer unique flavors and custom dietary options to suit your taste. We've elevated the way sandwiches are made and enjoyed with an elevated culinary experience that surpasses the rest.
The Best Sandwich Place Around
We are considered by many to be the best sandwich restaurant in the Salt Lake City area due to our quality, atmosphere, and affordability. When you come to Blue Lemon for lunch, you'll have a better dining experience than at a typical fast-food restaurant. We are our own unique brand of gourmet-casual, and we've perfected the art of serving up the most delectable hand-crafted menu items. We offer comfort foods with an added twist, which gives our artisan sandwiches the vibrant flavors we're known for. We also pair it perfectly with your choice of a side salad, sweet potato fries, or soup. Pull up a seat and partake in a truly satisfying lunchtime in our welcoming dining room.
These are some of the perks that make us stand out from other sandwich places:
Healthy and fresh ingredients
Delicious flavor combinations
Handcrafted artisan sandwiches
Upscale, family-friendly environment
Supportive of local vendors and sustainable farming
Chairs, dinnerware, and utensils made of recycled materials
Our dine-in sandwich restaurant offers a relaxing and comfortable experience for everyone who visits. Bring your friends and family for lunch that tastes great and is also good for you. Since we strive for a gourmet-casual style, we offer exceptional quality at a great price. Considering all the perks of eating at Blue Lemon, there's plenty to love!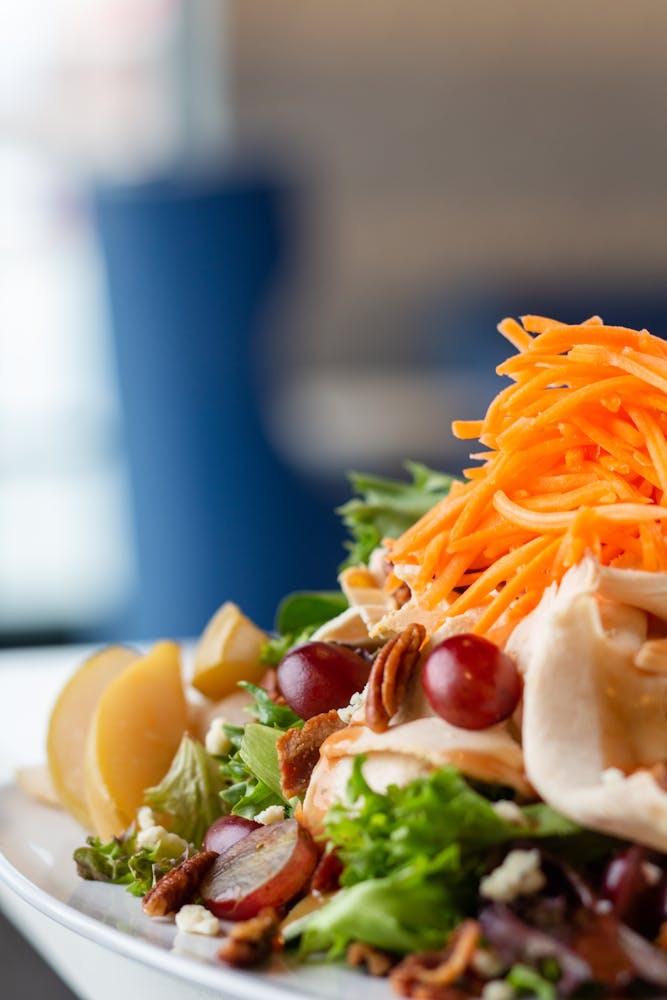 Visit Our Family-Friendly Sandwich Restaurant
Blue Lemon is the best sandwich restaurant in the Salt Lake City area. If you're looking for a good lunch spot, we're sure you'll find something you love on our varied menu. Our options make it easy to stick to a healthy diet, so come check out what we have to offer and pick something that suits your taste. We consider every item we offer to be pure, clean food with a twist, meaning they're comfort foods with an elevated quality because of their locally sourced ingredients.
We deliver greater overall value for families in terms of nutritious food and the convenience of an inviting dining area that utilizes recycled materials. Since 2009, we've brought fresh, clean ingredients to families in the area that want better quality food at an affordable price. We differ from other places because we support local vendors and sustainable food practices. You'll find that our gourmet sandwiches truly taste great and are good for you.
Order a Delicious Gourmet Sandwich Today!
Try one of our delicious gourmet sandwiches and see for yourself what makes them better. The choice is clear once you've had a bite of any of our menu items. We make tasty food without sacrificing quality, so you can feel good knowing you're feeding your family a healthy meal. Everyone will like the friendly, upscale environment our dining area has to offer and the convenience of eating out at our sandwich restaurant. Blue Lemon has you covered with the best in nutritious and delicious foods for the whole family. Visit our restaurant in Salt Lake to try our delicious gourmet sandwiches.